LakeCity Woodworkers has built an outstanding reputation for crafting high-quality, solid wood furniture for residential and commercial customers for forty years. But LakeCity is more than just a woodworking company; they're an award-winning social enterprise creating employment and skill-building opportunities for adults living with mental illness in our local community.
Paul Creamer has been a client at LakeCity Works for 15 years, working in the furniture finishing department. "I love coming to work at LakeCity. It's because of the people, they're really supportive. Like, if I want to try out another type of job in a different department, they'll work with me to make sure I have a chance to learn something new."
Outside of furniture production, LakeCity Works operates six other social enterprises, all working to enhance their client's employment goals.
"With having so many different enterprises, we can give our clients opportunities to work on different skills," says Sophie Eld, Executive Director at LakeCity Works. "We can provide clients with opportunities in; woodworking, construction, technology, customer service, facilities, and office work. It's about meeting our clients where they are and finding a job that suits them and helps them want to come to work every day."
The willingness to customize their client's work experience also extends to the services they provide to their customers. Expert craftsperson, Ken Nickerson, is there to ensure each custom piece is made according to a customer's unique specifications.
"Just wanted to say how happy I am with the vinyl cabinet. The quality of the work is amazing and exceeded my expectations." - Ken Geddes, customer.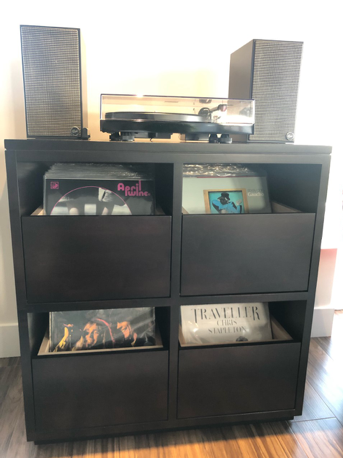 Ken's custom vinyl storage cabinet (Supplied photo)
"We're not a large-scale manufacturer, so people understand it takes a little longer for us to build each order that comes in," says Nickerson. "But they know it's worth it. In choosing LakeCity Woodworkers, our customers enjoy the quality for years to come while knowing they are giving back to their local community."
To top it off, the vibe in their furniture showroom is friendly, knowledgeable, and helpful. Whether you are buying something off the showroom floor or envisioning the perfect custom piece to add to your collection, their retail team is happy to assist you.
To learn more about LakeCity Woodworkers, visit www.lakecitywoodworkers.com or email retail@lakecitywoodworkers.com.